2018 Guarding Report: Changing Times for the Guarding Industry
How enterprises are working to boost pay and training for security officers, in addition to considering options like K-9s and robots.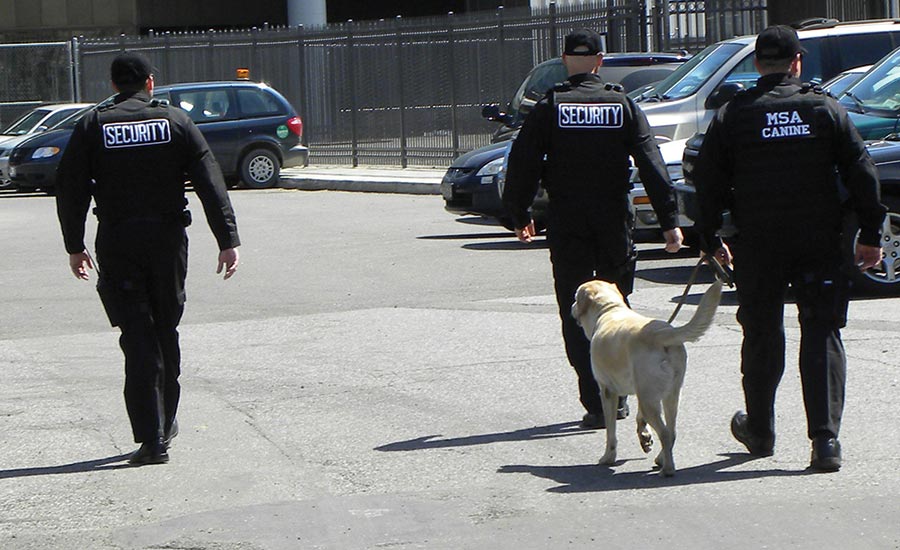 Security officer skills and needs are changing due to updated technology and integrated services. End users need a different caliber of security officer who handle more technology- and security management-oriented tasks instead of simply basic patrol, observe and report functions. This provides value to end users' business units that many don't consider – but which all appreciate once they come to fruition.
This value-added comes in a number of forms, ranging from canine patrols, to new technology in areas like access management, to the first generation of robot partners – but only if paired with training. For example, Brookfield Properties Retail Group (formerly GGP Inc.), for the past decade has used canine units supplied by what's now Allied Universal to help search and secure its retail properties and prevent disorderly conduct as well as deter suspicious activity during mall hours. The dogs have proved popular with the public, while also effective in handling the situations we had in mind, says Daniel Ryan, vice president, security.
"The mere presence of a canine gains compliance with disorderly conduct situations – if a fight doesn't end immediately, a command for the canine to bark ends it very quickly," he says. Ryan recalls one property at which a canine discovered a group of people lurking in the bushes, dressed in all black. "They refused to come out until the handler threatened to send a dog," he adds. "They were dressed and equipped to burglarize the mall."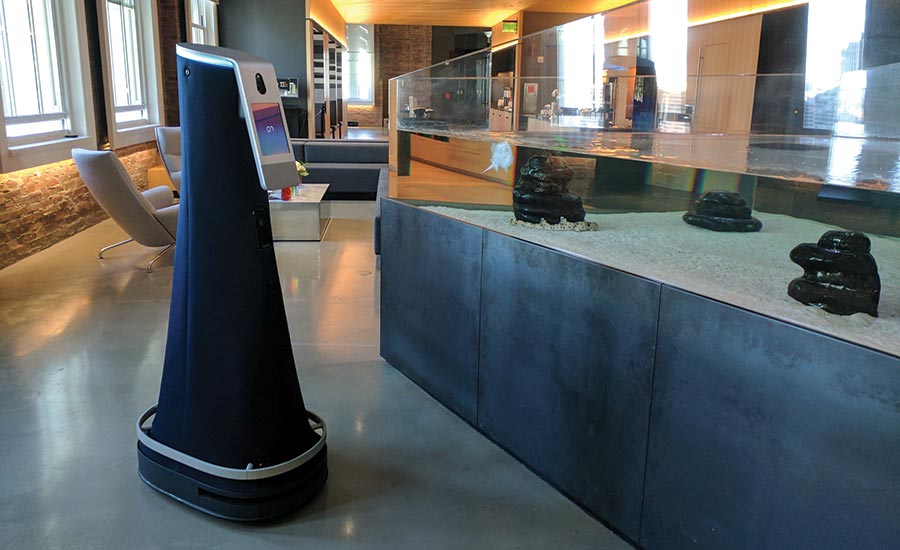 As security technology develops and matures, security officer skills need to be elevated to match, says Nancy Bentley, senior director, security services and BCP for Northwestern Mutual. "To make sure we can continue operating efficiently and effectively, we really are looking at hiring security officers that have much more of a technically savvy mindset," she says. "We believe that enhances our customer experience, as well. It just makes for a win-win for everyone."
MSA Security, which provides explosive detection canines and SmartTech technology for X-ray machines, invests in its people by continuously training them, says Michael O'Neil, chairman. "We stay on top of threats. They're staying current on trends and methodologies," he says. "If you go to the lowest common denominator, you're not going to get the type of people you need to respond. Security professionals are on the front lines. They're going to be the first ones to engage until the police get there."
Pairing Training with Technology
New technology or other guarding methodologies must be paired with relevant, adequate training, experts say. Take Northwestern Mutual's visitor management system. "We can input that information in advance, so when they come into our site, we can automatically understand who they are, who they're visiting, and get them some credentialing in advance," Bentley says. "It's a more efficient, effective and secure process." Similarly, if the company needs to evacuate a facility, she says, "We can quickly account for people using handheld card readers to able to identify and process them, and know who's in and out of the building."
To train officers to understand and use these systems, obtained from AMAG Technology, the company provides a base set of training during the onboarding process and then continues guards' education as the technology changes or is enhanced, Bentley says. "In terms of day-to-day operations, and understanding what the traffic patterns are, we're able to leverage that information to make good business decisions about staffing, or how we help people to get around our campus," she says. "We also use it in terms of emergency response capabilities."
The set of tools from AMAG enables officers to think beyond guarding and patrolling, to making the customer experience more effective and efficient, Bentley says. "They can think outside the box and provide suggestions on how to enhance the experience, or how the tools might be enhanced to make our operations more efficient. This enables the user to have a better interaction with our security force."
At Brookfield Properties, the presence of canines and the fully equipped Ford Explorers that come along with such patrols also has helped to deter looting during community-wide crises such as natural disasters like hurricanes Harvey and Florence, Ryan says.
Mall security officers in general have become greater assets to their property owners, he says. "I don't use the term 'guard,' " Ryan says. "They're doing incident response, they're doing surveillance, they're doing preliminary investigations on incidents and events that occur, in addition to handling response to medical emergencies. There's already an expectation of a higher caliber of officer and a higher caliber of training in the mall industry in general. Our officers are able to respond to a wide variety of incidents. We need officers who can make quick decisions – and make the right ones."
Allied Universal (AUS) works in partnership with clients like Brookfield to ensure they're selecting and hiring the most capable officers, continuously evaluating staffing needs and closely examining pay, benefits and training, says Scott Bickett, vice president – retail for AUS. Ryan adds that security directors are typically former law enforcement or military people. "Our goal is for all of our security officers to be trained and capable," he says. "There are a lot of amazing stories of what these security officers do that I think are overlooked by the public."
Companies can invest in high-end technology, but if they have lowest-common-denominator staff, that's not going to help, O'Neil says. "Personnel costs are heavy in any company, in any industry," he says. "But I do believe that the more you inform people about the threat, even the people in charge of making money at these companies start to understand that not providing a quality, safe environment for people has a cost, as well."
Security staff need to be trained in how to respond to threats like active shooters and improvised explosives, O'Neil says. Executives with the proper awareness "are demanding that their security staff is trained in identifying properly what to do," he says. "What is our active shooter protocol? What are we doing in those first few minutes? What is our response? Not just security staff, but anybody in the building."
Security staff also need to be compensated well enough to prevent turnover, or "the training session you gave last week, that person moved on," O'Neil says. "Paying people better gets them to stay in their jobs; then the company can benefit from whatever training you're giving. If I'm investing in people, I don't want to lose them. I try to make them comfortable."
Losing trained talent is like a team losing a key player, he says. "We focus on benefits, and we find the employees love professional development," he says. "We try to give back to them through training. You don't have to be the highest paid, but you want to be competitive. Through their benefits, their pay and challenging them professionally, the best thing you can get is a long-term employee who wants to grow in your company."
Training to Partner with Robots
It's only just begun, but the next generation of security personnel will need to be trained to work alongside – you might say partner with – robots. Dr. Travis Deyle, CEO and founder of Cobalt Robotics, estimates less than 500 robots have been deployed worldwide for use in physical security. But he foresees three growing uses: outdoor drones in the sky, outdoor robots on the ground for deterrence and indoor robots for real-time response.
"You see that reflected in the product offerings that are starting to be rolled out," he says. "A large part of what's needed will be training – going through and becoming familiar with the systems, and then using their tools as force multipliers. There's a lot of change management. You need to set realistic expectations for what robots can do today, and then iterate and refine over time, using customers who are in the loop to do it."
Robots essentially allow one trained human to be in many places at once, Deyle says. "As a robot is moving around the space, it's building up a profile of what's normal and detecting anomalies," he says. "They're good at detecting but not good at triage. You need to train remote robot specialists – guards combined with a security service – to basically jump into the robot's body, assess what's going on and then respond. How do you meld the man and the machine? There's pretty substantial training that has to happen to make them effective."
But as the technology gets perfected and training advances, people and robots will make strong teams, Deyle believes. "Robots have unique benefits; people have unique benefits," he says. "People are very flexible in how we think and good at getting rapid context. From a cultural perspective, people are more comfortable engaging with another human being. But robots can operate with unwavering attention. They detect leaks and spills, hear incredibly well and see in the dark. It really comes down to exploiting the capabilities unique to both, and marrying them in a way that's better than the sum of its parts."
In the same way that access control and cameras enhance rather than replace humans, robots help fill in gaps. "It's profound, and enabling," Deyle says. "The big challenge is on education, clearly identifying use cases. We have to be honest in marketing what robots can do today, what they can't do today and what they could do tomorrow. Right now, we tend to target times and locations that are relatively low activity, like nights and weekends. In a busy office, we probably wouldn't have a robot around. It would be better to have a manned guard."